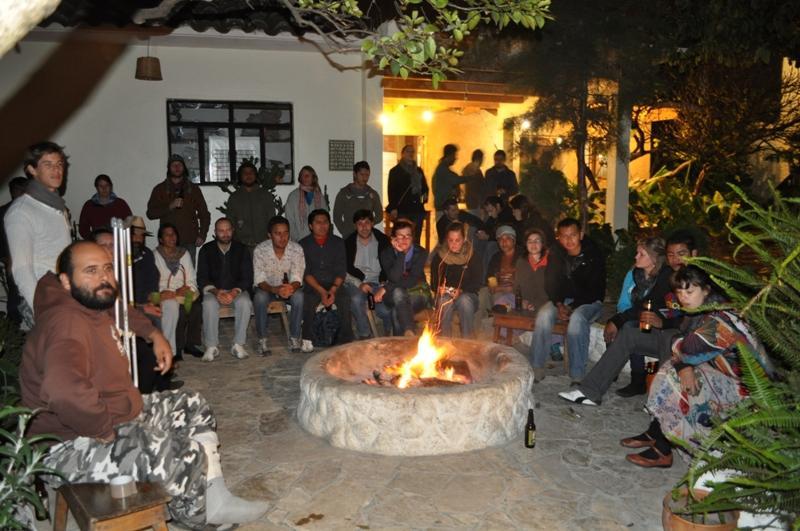 Mexico
San Cristobal de las Casas
Rossco Backpackers Hostel Informations
Read this first: Book through this site and get the best rates and services in town 25% off or more....
Have a look on our specials section and save money too...
------ Look only booking here do not miss it --------

Rossco Backpackers hostel, established in 2003, Becomes the most famous and
Bus station recommendations:
At the bus station you will meet MANY workers of Pirates and insecure hostels. They will try to take you theirs bad hostels, Saying that Rossco Hostel doesn't exist, or it is full, etc . Also do not listen to the taxi drivers from the bus station, they will try to take you to others hostels but not Rossco Backpackers Hostel. If you take a taxi, be sure that they will drive you to our Hostel.

Taxi Cost $25 or $30 maximum not pay more than that price!!!!!!! please

Walking: From the main bus terminal take Insurgentes street to the north as the cars goes you will pass the Zocalo (main square). Keep going until to 1 de marzo street take to your left as the car goes walk that direction only for one block, That corner is 1 de marzo & 20 de noviembre (wich is a peatonal street), Take to your right on 20 de noviembre. Keep going for only 4 blocks you will pass those streets: 28 de agosto street, escuadron 201 street, callejon guatemal and then is Real de mexicanos Street. In that corner you will find in your rigth hand the Santo domingo church with the artesanal market and the left hand in the corner a public toilets. So take your letf on real de mexicanos as the car goes for 1 1/2 block. We are in the number 16, wich in the left site of the street.
We are just 750 meters 10 minutes walking from the main square (ZOCALO). where you can find Restaurants, Stores, Cafe's, Bars & ETC. The main market of the city is also located 5min or 450 meters walking from the hostel, the biggest artesanal market of the countra is only 2 blocks (200 meters) from the hostel. we are in the heart of all the main attractions of San Cristobal. The bus station is about 1.7 km from the hostel or 20-25 min walking.
1. By making a reservation with your credit card or debit card, you agree that in the event that you cancel your reservation less than 24 hours from the check-in time (1 p.m), you authorize the HOSTEL to charge to your credit card or debit card without further reference to you an amount not exceeding one night's charge. 1.1 Al hacer una reserva con su tarjeta de crédito o débito, usted acepta que en caso de que sea cancelada con menos de 24 horas a la hora del registro 1 Pm, autoriza al establecimiento a cargar a su tarjeta de crédito o débito sin necesidad de futuros reclamo la cantidad total a una noche 2. Your non-arrival by the agreed check in time will result in the cancellation of your entire reservation any amendments to your reservation must be notified to and agreed with the HOSTEL directly. 2.1. La llegada fuera del tiempo acordado resultará en la cancelación de su reserva. Avisar cualquier cambio. 3. Any change on your reservation must be notified to the HOSTEL 48 hours in advance from the check in time (1 p.m) 3.1. Cualquier cambia a su reservación, deberá ser notificado al establecimiento con un mínimo de 48 horas de anticipación sobre la hora del registro (1 pm). 4. Any change on your reservation depends on the availability of the Hostel. 4.1. Cualquier cambio a su reservación dependerá de la disponibilidad de camas o habitaciones. 5. Check in time is at 15:00 hrs & Check out time is at 11:00 hrs. 5.5 La hora de entrega de su habitación o cama es a las 15:00 hrs, La hora de salida del hostel es a las 11:00 hrs
Informations about Rossco Backpackers Hostel
Read this first: Book through this site and get the best rates and services in town 25% off or more....
Have a look on our specials section and save money too...
------ Look only booking here do not miss it --------

Rossco Backpackers hostel, established in 2003, Becomes the most famous and the best hostels in San cristobal, Chiapas - Mexico. This hostel is an excellent hacienda style hostel well adapted to respond to all travellers needs, offering a wide variety of services at reasonable prices for backpackers and independent travellers world wide.

Breakfast included ( bread, cereal, yoghourt, coffee, milk, tea, jam and butter), free internet & wifi in all rooms, free lockers in dorms, free bonfire every night, free pool table,free left luggage, free everyday activities, nice living room with movies, tv cable and books, free use of the full equipped kitchen, free use of our great terrace with hammoks and more services.

This colonial hostel in down town is a safe, convenient place to explore and enjoy San Cristobal. The indoor and outdoor commun areas and the well-known nightly bonfire, really make the hostel a relaxing, friendly, enjoyable and ideal place to stay.

This hostel is recommended by Lonely planet, Let's Go, Geo Guide, Rough Guide, le Routard. Our friendly staff is waiting your visit.